SETE ENGENHOS
Balsam (Bálsamo)

The cachaça that has rested for a few months in balsam
casks provides a tasting experience of a fresh and
delicate contrast, with subtle aromas of lemongrass
and fennel. The flavor of the Brazilian wood does not
overcome the sweetness of the sugarcane, and there
are herbal notes in the aftertaste lingering in your
mouth. It goes well with succulent steaks and dishes
rich in spices.
Alcohol by volume: 42º GL

SETE ENGENHOS
Oak (Carvalho)

Aged in American Oak barrels for eighteen months, this
cachaça brings a sensorial complexity of mixed aromas
of vanilla and spices. It has a soft, silky taste, revealing a
new face of its personality at each time. The aftertaste
is full of delicate fruit touches and a hint of coconut. It
harmonizes well with seasoned dishes and strong cheese.
Alcohol by volume: 39ºC

SETE ENGENHOS
Cherry (Cerejeira)

This cachaça received the Gold Medal at the Brussels
World Spirits Competition (2013 and 2014 editions),
besides the gold medals at the ExpoCachaça in 2013, in
São Paulo.
It is kept for 12 months in cherry wood barrels
(Amburana), native of Brazil. It is appreciated for its
aroma of vanilla and cinnamon, combined with notes of
chestnut and walnut. Its way into your palate shows its
personality and its alluring acidness, balancing out this
sinuous tasting. It works amazingly either neat, as an
appetizer, or served with slightly sour dishes as
vinaigrette and seafood, oysters or sausage appetizers
with lemon.
Alcohol by volume: 39ºC

SETE ENGENHOS
Silver (Prata)

It offers the sweet aroma of sugarcane, with subtle
touches of vegetables and soft spiciness. Kept in barrels
of amendoim-bravo (Pterogynenitens), it stabilizes but
does not acquire colour and suffers little interference
from the Brazilian wood. It reveals the softness and
personality of sugarcane and the heart of a handmade,
well balanced cachaça right out of the still. Perfect for
cocktails. It harmonizes well neat along with a good
bitter beer.
Alcohol by volume: 42º GL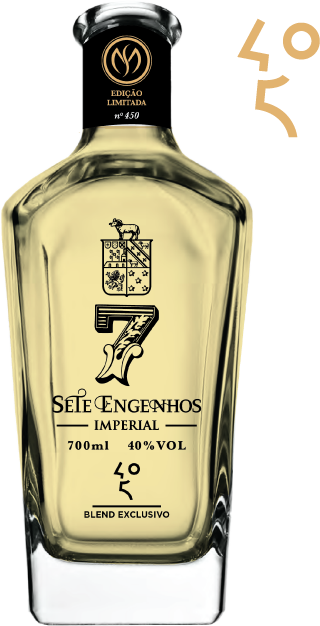 SETE ENGENHOS
IMPERIAL

History is part of Engenho São Miguel's DNA.
Its founder, Haroldo Carneiro da Silva, descends from the rst inhabitants of Rio de Janeiro, as proved by certicates from the Brazilian College of
Genealogy.
To celebrate Rio's 450th anniversary, Engenho São Miguel decides to launch an exclusive product: Sete Engenhos Imperial, a special edition. In order to surprise your palate, the Sete Engenhos Imperial Cachaça will debut a unique blend, kept in wood barrels of American oak, cherry tree, balsam and amendoim-bravo (Pterogynenitens), with a limited edition of 450 bottles only.